[bloomberg.com] July 17, 2017, 9:32 PM GMT+3 by Alexandria Arnold
Does this support the notion that there's a bubble in digital currencies and initial coin offerings?
CoinDash, a blockchain technology startup that bills itself as a social-trading platform, said that its website was hacked Monday and $7 million was stolen from investors trying to participate in the company's initial coin offering.
Investors had been instructed to pay with ethereum and send funds to the token sale's smart contact address. In an email, CoinDash said it appeared that the sending address was hacked and changed to a fraudulent address.
The company doesn't know who is responsible for the attack, which is still ongoing, according to a statement on its website. CoinDash has terminated the coin sale and asked investors to stop sending ethereum to the site.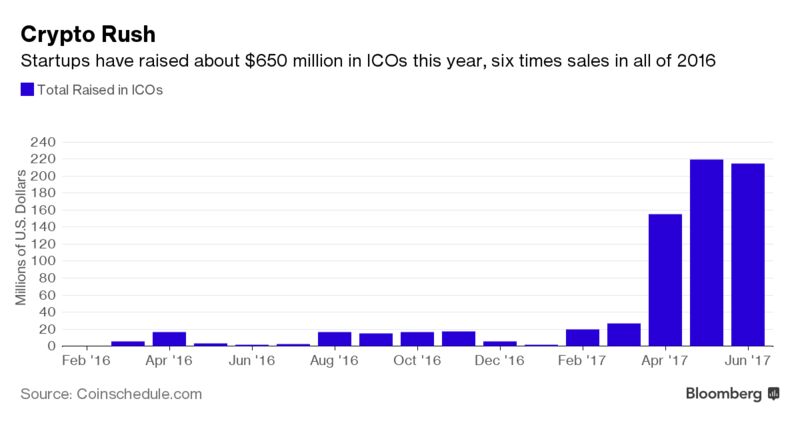 A rapid surge in token prices, doubling on average since they start trading, has convinced investors to hand over millions to early stage developments in fundraising rounds that often close in minutes. The hype has driven prices of coins for ethereum, the network on which many of the projects are built, to around $300 from $8 at the start of the year. Ether traded at about $174.88 on Monday, according to Coinmarketcap.com data.
"This was a damaging event to both our contributors and our company but it is surely not the end of our project," CoinDash said in its statement. "CoinDash is responsible to all of its contributors and will send coins "reflective of each contribution."
The coin sale was scheduled to last 28 days or until it reached a $12 million limit. The platform said it raised $6.4 million from early participants in the sale.
Both investors who sent ethereum to the fraudulent address and to the correct one will receive their intended CoinDash tokens, the company said.
---
Set up an account on a recommended exchange or broker website to start trading:
Link: Visit recommended website HERE
---