[seekingalpha.com] Jul. 17, 2017 2:02 PM ET by Bram de Haas
Summary
Cryptocurrencies have been crashing across the board last week.
This is likely due to the potential Bitcoin split due to a software update.
The problem is temporary in nature and as uncertainty drives selling pressure it can pay to think contrarian.
Bitcoin (COIN) is facing a potential split into two competing Bitcoins which introduces a lot of uncertainty into the market. Just like in other markets uncertainty will stop any bull market in its tracks. The Bitcoin insiders community, miners and developers, have come around to the idea the Bitcoin system needs an update in order to scale better given its global adoption. The update process has been contentious and without a central authority resulted in a compromise that's uncertain to get adopted.
The result is that there is a chance Bitcoin will split into two types of Bitcoin after the next few weeks. This introduces some risks to Bitcoin holders which is very unfortunate as it scares people out of the currency. A split is not unusual in that it happened to Ether already and there's Ether and Ether classic.
There are two things that go a long way to help you get through the uncertain period in a safe way:
1) Do not make any transactions going up to August 1. This helps to combat uncertainty with regard to which kind of Bitcoin, in case there will be two kinds, your Bitcoin will turn into.
2) A second helpful security measure is to move your coins from exchanges or cloud wallets towards a hardware wallet. Hardware wallets are easier to manage. Bitcoinmagazine has a solid guide out on how to manage through:
The only wallets that are entirely trustless are full node wallets, like Bitcoin Core or Bitcoin Knots. These verify all protocol rules, but they can be a bit resource intensive to use. If you don't care about transacting with bitcoin (either 148 BTC or Legacy BTC) anytime soon and really just want to keep both as a long-term investment, printing your private keys on a paper wallet is another option. This option, however, is only really secure if you follow strict security precautions, which you can find here. Alternatively, you could get yourself a hardware wallet. Any of the hardware wallets listed on bitcoin.org will keep your private keys secure.
The hardware wallets listed on bitcoin.org are listed in the table below. KeepKey is currently unavailable but this may be different by the time you are reading this. Digital Bitbox is available through its website but with packaging delayed its estimated delivery date is a bit close to August 1.
Something that ensures the potential split doesn't hurt you directly is to turn Bitcoin back into U.S. dollars. That's precisely what at least a percentage of holders has been doing but as more people try to exit, the price of Bitcoin is falling – in turn spurring momentum traders to sell Bitcoin and other people panicking and heading for the exits as well.
Many exchanges offer leveraged investing in Bitcoin but when prices are moving this rapidly and with the potential split many traders are likely winding down positions or being forced to wind down. This inventory getting liquidated adds to the selling pressure.
Not a phenomenon unique to cryptocurrencies.
The downside of the sell Bitcoin and go back to fiat is that sellers may have a hard time getting back in at a similar price post uncertainty. Not having to deal with the uncertainty has a price tag as well.
One place I hold some Bitcoin is the U.S. based Coinbase. You can follow them on Twitter to remain updated how they are dealing with the Bitcoin update. Their latest tweet adresses the issue: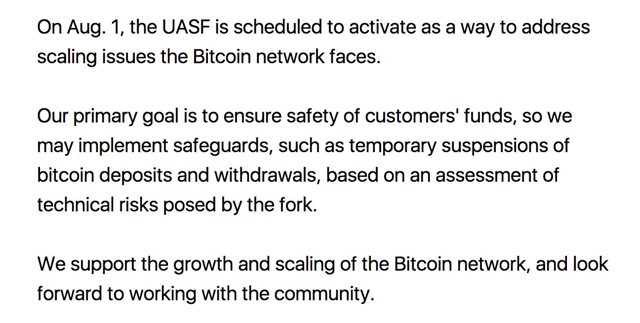 I'm ok with keeping part of my cryptocurrency exposure at Coinbase. I'm confident this organisation will manage the transition very carefully and if they fail somehow it remains to be seen whether that ultimately results in a (partial) loss.
Overall, I'm going to add to my Bitcoin and cryptocurrency holdings as prices are crashing. I'll make sure it remains a modest position in terms of my total portfolio. My experience with markets selling off due to uncertainty is that they will recover once the uncertainty has been resolved. To quote famous investor Mohnish Pabrai: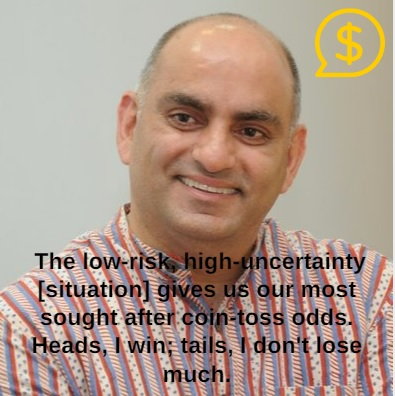 Source: Bram de Haas
With about two weeks or fourteen days to go until August 1 I'm going to buy a small amount today and some more at several points before August 1. There is a good chance I'm too early. I don't want to run the risk of prices quickly recovering as the selling abates and end up missing out on this temporary split induced dip.
Disclosure: I/we have no positions in any stocks mentioned, and no plans to initiate any positions within the next 72 hours.
I wrote this article myself, and it expresses my own opinions. I am not receiving compensation for it (other than from Seeking Alpha). I have no business relationship with any company whose stock is mentioned in this article.
Additional disclosure: I'm long Bitcoin and several other cryptocurrencies.
---
Set up an account on a recommended exchange or broker website to start trading:
Link: Visit recommended website HERE
---